Custom Cladding Systems

Architectural Applications from Yancey & Jamieson provide the most comprehensive range of finishes and styles in the industry based on your application and budget needs.



Flat surfaces

— virtually eliminate dimpling and buckling. Graphics are easily applied the smooth surface of the flat panels.



Light weight

— allows for a wide variety of design options: custom surfaces, column covers, canopies and signage. On renovation projects, custom cladding systems can be installed with little or no alteration to existing structural elements.



Affordable and Designable

— From retail space to the owner's headquarters, Yancey & Jamieson distributes the widest range of cladding systems in the industry. Dramatic and distinctive architectural designs are no problem. Installation is fast and precise.



Colorful and Weather Resistant

— The high-performance coatings provide outstanding color and gloss in a virtually limitless range of colors. From matte to high gloss and corrosion-resistant and weather-resistant finishes assures that your project will retain its fine appearance over time.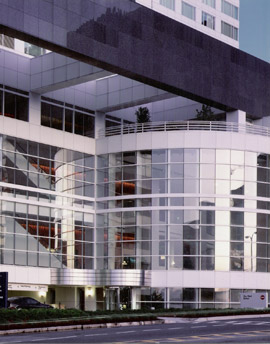 Project: Westin, Buckhead - Atlanta, GA